The 2015 Print of the Season.  Offered in a Limited Edition of 15 to celebrate 2015.  Discover all the details at this link: http://www.beautiful-landscape.com/Print-of-the-Season-2015.html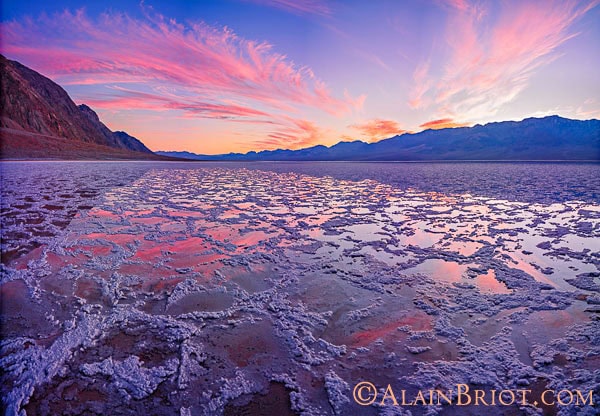 Shipping is Free for all USA orders
2015 Print of the Season
Limited edition of 15
16×20 Matted: $695Free USA shippingYou save $200 compared to regular pricing for a print of this size.

2015 Print of the Season
Limited edition of 15
16×20 Framed: $895Free USA shippingYou save $200 compared to regular pricing for a print of this size.

The Photograph
The second Alain Briot Holiday Season Print Collection is titled Badwater Reflections.
This print is only offered during the 2015 Holiday Season. Availability ends on December 31st or whenever the edition is sold out.
This is the second print in the collection called The Alain Briot Holiday Season Limited Edition Print Collection. There are 15 prints to celebrate 2015. This collection was started last year. In 2014 there were 14 prints. There will be 16 prints in 2016, 17 in 2017 and so on.

The Image
This photograph was created this year during the 2015 Fine Art Photography Summit in Death Valley National Park, California. Heavy rains had filled the Badwater basin with water, creating a unique opportunity for photographs of reflections. I spent several hours there in the late afternoon photographing the mountains reflected in this temporary lake. The salt pans, the patterns created by the salt on the floor of the basin, provided additional interest by creating interesting and endlessly varied designs.
The key moment happened not as sunset but 10 minutes or so after the sun had gone done. I waited after because there were clouds in the sky and I there was a possibility that they would turn pink after sunset. This does not always happen because it depends on many factors that are impossible to predict. Sometimes you wait and nothing happens. Sometimes you leave early thinking it won't happen and it does happen which is obviously frustrating. The best situation is when you wait and it does happen, which is what took place here. The colors were there for a very short time because what gives the pink color to the clouds are the very last rays of the sun before everything turns black. Fortunately I was ready, with camera on tripod and the right lens selected, and I was able to get several images before darkness set in and we had to hike back.
Framing and matting
This limited edition print is available matted or matted and framed.
If you purchase it matted, it is matted museum-style in a mat hinged to the backing board. The print is attached to the mat with plastic corners, which means that no tape touches the print. The print is not dry mounting because dry mounting is not reversible. This mounting technique is therefore totally archival because the print can be removed from the mat simply by lifting it off. This also means that the print will not wrinkle or warp depending on the humidity level because it has room to expand freely not being attached with tape. This 100% archival mounting is used by museums worldwide and is preferred to all other types of matting and mounting.
If you purchase it matted and framed, the frame is a handmade Mahogany Finish Frame. The moulding is truly magnificent and does emphasize the beauty of this image. The photograph I took of the moulding shows closely how beautiful this presentation is. However, this piece looks much better in reality than a web photograph can show! You just won't believe your eyes when you receive yours. All the framing materials used are Museum Quality, archival supplies. All my work is guaranteed for life in regard to fading and damage caused by framing materials.
Framed pieces are delivered in a stunning mahogany finish frame.
A Unique Special offer
This photograph is priced at a special print of the season pricing. Look at the table below and compare it to my regular prices to find out exactly how much you are saving through this incredible offer!
Shipping
Shipping costs for US orders are included in the Print of the Month price. US orders are shipped via US Priority Mail insured and trackable. International orders are shipped via US Airmail insured. Shipping costs for international orders are calculated separately.
Packing
Each package is professionally packed and insured for its full value by us. We guarantee that you will receive your matted or framed photograph in perfect condition. If you receive your photograph damaged simply contact us and then return the damaged photograph to us. We will ship you a new piece right away upon receipt of your return piece at no extra cost.
One month, 100% Money Back Guarantee
All purchases are covered by my unique 100% Take one month to decide money back guarantee. If you are not satisfied with your purchase for any reason just return it (in original condition) for a refund or credit. Take one month to decide. And, if your photograph fades, we will replace it at no charge!
Place your order now at this link:
http://www.beautiful-landscape.com/Print-of-the-Season-2015.html